The Convitto Palmieri
The Convitto Palmieri of Lecce , as it appears today, is the result of demolitions and reconstructions carried out in different time spans,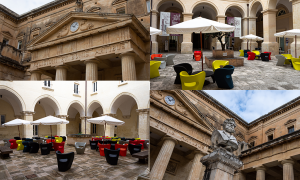 even after centuries, as frequently happened for religious and convent buildings, whose achievements were always linked to donations from the faithful, donations or other forms of support.
The Apollo Theater
The Apollo Theater of Lecce is one of the most valuable architectural works of the Salento province. It was reopened to the public with the inauguration on February 3, 2017 attended by the President of the Republic Sergio Mattarella and the Minister of Cultural Heritage and Tourism Dario Franceschini.
The Apollo theater was born in the twentieth century. It was built by Maestro Vincenzo Cappello on a project by the engineer Tassoni. It is located in the center of the city of Lecce and has a neoclassical structure, characterized by a colonnade that opens onto a portico, which leads to the wooden box office.The opera was inaugurated on May 15, 1912 and closed in 1986. On November 27, 2003 the municipality bought the theater from the Cappello heirs. The renovation work began on June 5, 2008. During the restoration, Neolithic remains were found and part of the theater is now a museum area. On 3 February 2017, the theater reopens its doors to the public with a solemn inauguration, honored by the presence of the President of the Republic Sergio Mattarella.